A Wellness Group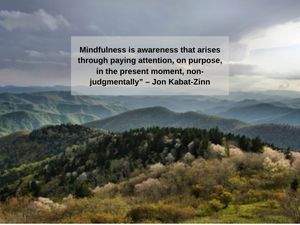 Wednesdays at 5pm via Zoom
*Starting early November 2021*
Mindfulness is a skill that can be useful to anyone. It can help build and bolster coping skills that can be applied in many different ways. If you find yourself struggling with negative mood, anxiety, or stress, if you are trying to make healthy changes to your lifestyle, consider attending this group.
The group will consist of six weekly, 1-hour classes addressing topics such as Coping with Stress and Emotions, Focusing on the Moment, Managing Negative Thinking, Being Kind to Yourself, Boosting Positive Emotions, and Getting in Touch with Values.
If you are interested in joining Dr. Mike Poggioli's Mindfulness for Stress Management group, please call The Pisgah Institute at 828-254-9494 and press option 2 to speak with Mackenzie.