The office will be closed Thursday November 25th and Friday November 26th in observance of the Thanksgiving holiday.   We will re-open for business as usual on Monday November 29th.
If you are here for a scheduled in-person appointment, please CLICK HERE.
Due to concerns related to COVID-19 and out of an abundance of caution, the majority of appointments are being conducted virtually or over the phone at this time.   We are considering how to safely handle the reopening process.   Please plan on telehealth appointments and check with your provider at your next appointment.
The Pisgah Institute is comprised of psychiatrists, doctoral-level psychologists, and psychiatric nurse practitioners who address a full range of mental conditions. We provide consultation, medication management, and individual psychotherapy. We perform psychological and educational testing, stress management, and Transcranial Magnetic Stimulation (TMS), a new treatment for depression. We provide services for children, adults, and families.
The Pisgah Institute is the largest, most comprehensive behavioral health practice in Western North Carolina. We provide a wide variety of mental-health treatments. The home-like atmosphere of the practice provides a relaxing atmosphere where patients can feel comfortable and cared for.
We are happy to welcome Michael Poggioli, Psy.D. & Erin Morrison, D.O. to the Pisgah team! Dr. Poggioli is a psychologist who takes an empowerment philosophy towards mind and body wellness. He combines evidence-based approaches such as cognitive-behavioral,...
read more
A Wellness Group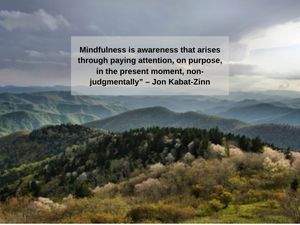 Wednesdays at 5pm via Zoom
*Starting early November 2021*
Mindfulness is a skill that can be useful to anyone. It can help build and bolster coping skills that can be applied in many different ways. If you find yourself struggling with negative mood, anxiety, or stress, if you are trying to make healthy changes to your lifestyle, consider attending this group.
The group will consist of six weekly, 1-hour classes addressing topics such as Coping with Stress and Emotions, Focusing on the Moment, Managing Negative Thinking, Being Kind to Yourself, Boosting Positive Emotions, and Getting in Touch with Values.
If you are interested in joining Dr. Mike Poggioli's Mindfulness for Stress Management group, please call The Pisgah Institute at 828-254-9494 and press option 2 to speak with Mackenzie.